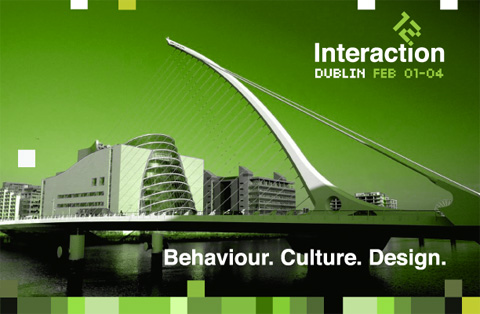 Our friends at IxDA Dublin are organising an important (and exciting) international conference for Interaction Designers. Interaction12 is a four-day event in Dublin taking place between February 1st to 4th, 2012. This is the fifth annual conference hosted by the Interaction Design Association (IxDA). Dun Laoghaire Institute of Art, Design & Technology (IADT) is this year's conference host and early arrivals to Interaction12 will participate in hands-on workshops on the IADT Campus.
IxDA
IxDA is a global network dedicated to the professional practice of Interaction Design. IxDA membership has grown to more than 20,000 members since 2004.
Keynotes and Presentations, Thursday 2nd to Saturday 4th Feb
Following the workshops on Wednesday in IADT the conference continues with three days in The Convention Centre Dublin where the Keynotes and presentation talks take place including: "From Solid to Liquid to Air – Interaction Design and the Future of the Interface" by Amber Case and "Hack to the Future" by Fabian Hemmert. This year's conference also plays host to the inaugural presentation of IxDA's Interaction Awards, the first awards program recognizing excellence across the diverse practice of interaction design.
Big Event – Big Effort
Interaction12 is a very big event and it takes place in Dublin thanks to the efforts of Séamus Byrne, Ben Arent and IxDA Dublin. The international IxDA Board of Directors selected Dublin as the location for the Interaction 12 Conference – honouring Dublin with the designation of first European IxDA host city. The Dublin bid beat off rivals Berlin, Delft, Helsinki and Paris.
Reserve your place
Time is running out, several events are fully booked out – register here.